Annual International Day Features Disaster Experts
Three experts on social work roles in natural disasters were the featured speakers at the School of Social Work's Annual International Day on April 8. Dr. Peta-Anne Baker and Ms Aldene Shillingford of the University of the West Indies (UWI), Mona campus in Jamaica and Dr. Letnie Rock, University of the West Indies, Barbados, shared their practice and research work in responding to natural disasters in the Caribbean. The Zachs room was also transformed into a gallery of multiculturalism, with student and faculty displays from diverse countries.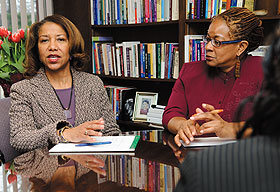 International Day has been an annual tradition at the School of Social Work for almost 20 years. The event features an academic presentation or panel on an important topic in international social work, plus food and displays celebrating the countries of origin of students and faculty. Other displays emphasize global problems or policy issues, such as human trafficking. The 2009 event included displays on Haiti, Ghana, India, Jamaica, Korea, Armenia, Mexico, Hungary and more. In addition, undergraduate students from the Greater Hartford Campus displayed posters on global issues that they had prepared for the global club in the branch.
The role of social work in disaster work is a topic of increasing interest. Natural disasters, including hurricanes, earthquakes, volcanic eruptions, and floods cause large-scale human misery and displacement. Experts expect the incidence of severe weather-related disasters to increase due to climate change. As our speakers noted, social workers can play important roles in all phases of disaster work, from prevention and mitigation to response and recovery. Dr. Baker has been involved in projects in Jamaica that emphasize community participation and forward-looking development in rebuilding after hurricanes. Dr. Rock organized social work students to travel to Grenada as part of disaster response teams after Hurricane Ivan devastated the island. She has also recently participated in a disaster workshop sponsored by UNICEF. The UWI faculty members were accompanied on a two day visit to the University of Connecticut by 7 graduate students in social work and social policy. Their participation in the International Day event was an added benefit. (see separate article on the UWI visit and link.
International Day is sponsored by the Center for International Social Work Studies at the School. The affiliated student organization, International Students and Company, co-sponsors the event and was particularly helpful in recruiting students to organize cultural displays.