As state lawmakers discuss a proposal to keep Connecticut's 18 domestic violence shelters staffed 24 hours a day, seven days a week, researchers at the School of Social Work's Institute for Violence Prevention and Reduction have stepped in to supply key information to the debate.
Institute Director Eleanor Lyon went to the Capitol earlier this month to supply lawmakers with the results of the nation's first multi-state study of the effectiveness of domestic violence shelters in providing women with the services they need.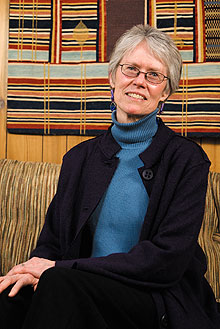 Eleanor Lyon, Associate Professor-in-Residence
of Social Work and Director of the Institute for
Violence Prevention and Reduction.
Photo by Frank Dahlmeyer
The study, Meeting Survivors' Needs: A Multi-State Study of Domestic Violence Shelter Experiences, was conducted by the Institute in collaboration with the National Resource Center on Domestic Violence. It was based on a survey of 3,410 individuals served by domestic violence shelters in eight states, including Connecticut, during a six-month period in 2007-2008.
Overall, the study found that domestic violence shelters in Connecticut, as well as nationally, play a key role in helping protect victims and in providing important services.
One hundred percent of the domestic violence survivors surveyed in Connecticut said they received all or some of the help they needed with restraining orders, understanding domestic violence, safety planning, and child custody and welfare issues. Ninety-four percent said the staff made them feel welcome, while 91 percent said the staff treated them with respect.
"This study shows conclusively that the nation's domestic violence shelters are meeting both the urgent and long-term needs of victims of violence, and helping them protect themselves and their children," says Lyon. "Victims attribute meaningful change to the help they received at the shelter, but they also see areas where there is room for improvement."
Read full article:  http://advance.uconn.edu/2009/090330/09033005.htm
---